Transtech Data Center
Located in the Transtech Business Park in Billings, Montana, the Transtech Data Center is an 11,000 square foot facility with 9,100 square feet of raised floor space divided into individual suites. This high tech facility features video surveillance and multiple forms of secured access at entry points, including RFID keypads and iris scanners. Also included are a common area with a meeting/conference room, a lavatory and a secured yard area that houses the electrical grids, cooling systems, and backup generators.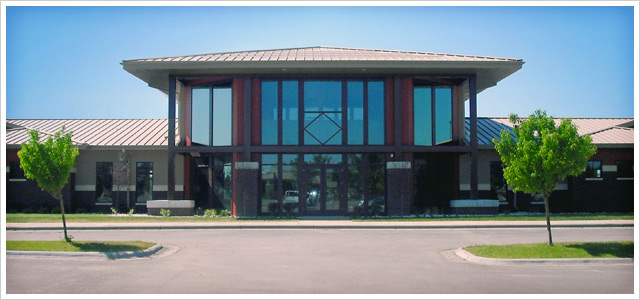 Administrative Offices
The administrative building adjacent to the data center provides office space for support staff and is equipped with disaster recovery offices. There are additional suites available for lease, all of which have access to the conference rooms in the building. Conduit running from the administrative offices to the data center provides fast access to your data.
Power Efficiency
Our facility was built with the environment in mind, and is operated more efficiently by utilizing the four metrics of green IT:
Deploy Energy Efficient Hardware
We carefully select hardware that delivers the highest computing performance per Watt of power consumption.
Optimize IT Strategy
We developed and implemented a unique IT architecture that best achieves availability, reliability, and performance while reducing energy use.
Reduce Physical Infrastructure Overhead
We maximize available power to reduce site infrastructure overhead while still achieving appropriate levels of uptime.
Utilize Assets Effectively
We only run the necessary servers, enable all power-save features, and make extensive use of virtualization software.